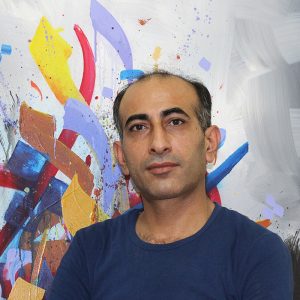 Ghassan Ismail was born in 1978 in Deir ez-Zor, Syria. His father was a calligrapher. "He used to occupy me with a calligraphy pen and a paper to keep me from teasing my siblings." Growing up, Ghassan developed his skills and was influenced by known calligraphers, among them Jamil Al Bayram.
Ghassan attended the Fine and Applied Arts Institute and Adham Ismail Center for Fine Arts in Damascus. He participated in several exhibitions in the Arab world, among them Letter & Color ( 2014)  and The Pioneers of the East (2015)  organised by The Arab Cultural Club  and UNESCO respectively.
He left Deir El Zor in 2011 at the outset of the Syrian conflict. He is currently based in Beirut and gives shorts courses in calligraphy.